Welcome
2020 is our Centenary Year so look out for special events on our Centenary page
Benfleet Horticultural Society has been in existence for almost 100 years. We currently have over 700 members, a number which is increasing year-on-year.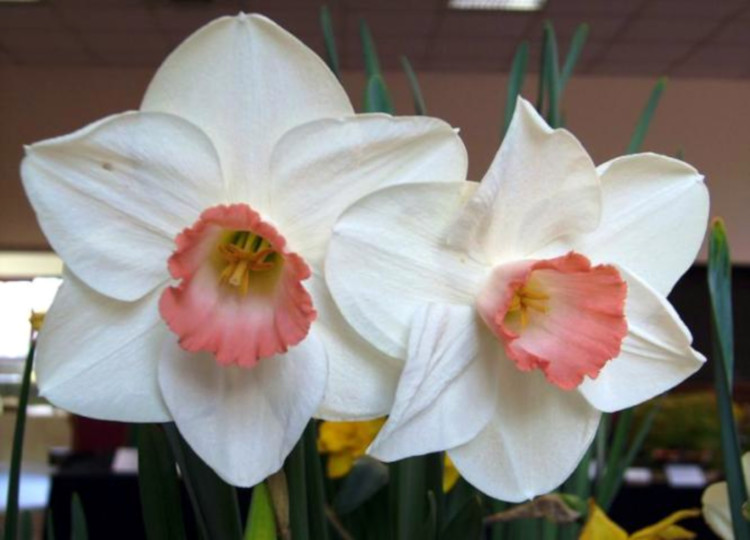 The Society is served by an active committee who manage the running of the Stores, organise three Flower Shows each year (which are growing in popularity), organise Talks and Quiz Nights, produce a Year Book and Newsletters, and arrange several Coach Outings each year.
The Society is affiliated to the Royal Horticultural Society.
The stores provides the finance to run the Society. It also provides contact with, and feedback from, the members. It is a meeting place for like-minded gardeners where problems (mainly gardening) can be discussed, and hopefully answers provided. Between the staff (all volunteers), there is a wealth of gardening experience.
We try to keep prices to an absolute minimum, whilst making sufficient profit to cover the costs of the Society. For example, we are very proud that our Seed Potatoes (usually around 14-16 varieties each year), regularly sell for substantially less when compared with local garden centres.
Come and see our Shows, get involved, and show your vegetables, flowers and crafts.
Come and join us at Talks and Quiz Nights, and enjoy days out on our Coach Outings.
Visit the Stores at 423b High Road, South Benfleet, Essex SS7 5AF, and stock up on all your garden needs.
And why not become a Member? For only £2.50 per year for a whole household, you can enter into the shows, join us on outings, and probably save the equivalent of your annual membership fee the first time you purchase something in the stores.
Latest News
Updated 18th May 2020 @ 8:58pm
STORE OPEN
CLICK HERE FOR MORE INFORMATION ABOUT OUR STORE REOPENING.
Our opening times are as normal except for Saturday when we are open from 12pm until 4pm, these extra hours will continue for the rest of May.
If you are self isolating and would like items delivered please contact us via email or the store phone during opening hours.
email: newsletter@benfleethorticulturalsociety.co.uk
phone: 07544 100840 (please only call when the store is open)
JUNE'S PLANT SALE - WED MAY 20TH - FOR BENFLEET COMMUNITY HELPERS.
IF ANYONE HAS ANY SEEDLINGS OR PLANTS THEY CAN DONATE PLEASE CONTACT:
JUNE ON 01268-964300
IN LINE WITH GOVERNMENT GUIDLINES WE MUST CONTINUE TO PRACTISE SOCIAL DISTANCING
ALL FUTURE EVENTS ARE CANCELLED UNTIL FUTHER NOTICE
SUMMER SHOW
OPEN DAY 8th JUNE
QUIZ
TALK
BENFLEET FLORAL ART MEETINGS
THE COACH TRIPS
WITH A FULL REFUND FOR ANYONE WHO HAS PAID THEIR DEPOSIT OR IN FULL.
The situation is changing on a daily basis, and if we are able to hold any of these events we will update our website, send out an email, and contact members directly if needs be.
We wish good health to all our members and ask that those who have any symptoms (such as a persistent dry cough or fever), or who have come into contact with someone who has, please do not come into the store or attend any events to protect the health of our members.
More information about the Coronavirus can be found here.
---
In the BHS Diary
Wednesday 24th June 2020
Floral Art
Demonstration by Clarissa Harris from Hornchurch entitled 'Some of my Favourite Things'
---
There's more...
Check the Stores page for the latest Stores News & Special Offers.
Take a look in the Galleries for pictures of this year's stock.
Sign up for email updates and newsletters.
All editions of the 'emailed' newsletter can be found here.
---
Why not join us?
Membership is just £2.50 a year per household.
3 Shows each year.
Talks
Quiz nights
Outings throughout the year.
Affiliated to the major societies.
Comprehensive Year Book.
Regular newsletters.
Page last modified 9th February 2020 @ 4:08pm